Batching plants - Cement silos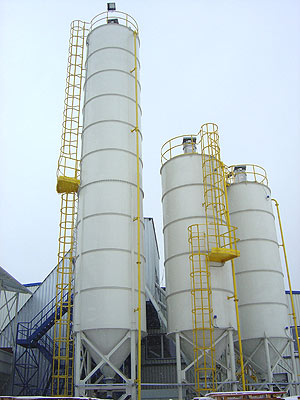 We have supplied the wide range of cement and fly ash silos for many companies in Poland and abroad.
We can design and deliver any kind of silo for friable materials.
We have already delivered over hundred of silos with capacities from 50 to 500 cubic meters.
Our silos can be equipped with:
Pneumatic or mechanical filter
Security valve
Maintenance throttle in the outlet
Level sensors: maximal, minimal or constant measurement
Different kinds of material's flow aid systems inside the silo
Silo heating system
Thermal insulation of silo
Overfilling prevent- safety system
Active unload beds
Basalt linings for loading pipes elbows
Special paint coatings preventing sticking material to the walls and improving the slide of material.