Batching plants - Additives weighing system
We offer complete solutions for dosing all kinds of chemical additives. Automatic weighing process is carried out by pumps dosing the additives into a weighing hopper installed over a mixer. After the weighing process is finished the hopper is gravitationally emptied and then rinsed with fresh water.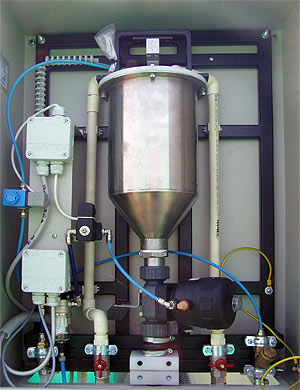 The additives are fed (by suction) from the customers' tanks with the pumps installed on the level of +0.9 meter. Depending on the requirements we provide rotor or membrane pumps.
The weighing set is mounted inside a tight steel box on the mixer level.
The device is equipped with membrane valves with special sealing for dosing, emptying and rinsing of the weighing hopper as well as washing system using the water dosed to the mixer.
The entire process is automatically controlled by the batching plant control system.
Main features of additives weighting system:

tight housing of the measuring cylinder (IP55 box);
function of rinsing the weighting hopper after each cycle;
high precision of weighing (+/-0.05 kg);
produced from the best materials and components (reliability).