Specialized installations - Special batching installations

Basing on our experience and know-how we are able to design and deliver various types of installations for batching, utilisation or recycling of many different industrial wastes. We delivered such installations to customers in Poland, Germany, Great Britain, Canada and in Hungary.

SET FOR MIXING CHEMICAL WASTES WITH CEMENT (POLAND)

We have delivered the professional installation for utilisation of chemical wastes stored at an industrial waste yard in Tarnowskie Góry. Individually designed twin-shaft mixer with continuous mixing ensured great results of binding wastes with cement. The true challenge was to design the continuous dosing system for calcium based slime. Weighing systems were designed together with the Siemens Company.
Our concept of production was successful and it provided on-time high quality waste utilization performed by our customer, BUDUS company from Katowice.

CONCRETE BRIQUETTE PRODUCING PLANT TAILORED TO FURNACE CHARGE REQUIREMENTS (HUNGARY, GERMANY, GREAT BRITAIN, CANADA)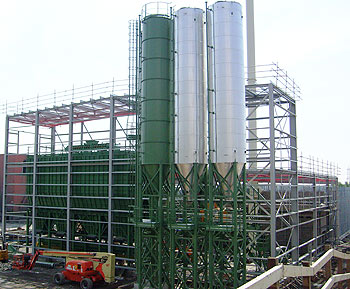 Basing on our customer technological requirements we have designed the installation for producing concrete mixes from the industrial wastes. We took the task in a situation where physically-chemical features of each ingredient were unknown to us. Using pieces of technical information, we designed dosing and mixing technology of the ingredients. Appropriate decisions made during the phase of designing made the commissioning of the system smooth and fast. Simultaneously we had to meet the high demands connected with the influence of the installation on the environment and the employees. The solutions provided as a ventilation system, suction system and poisonous gases concentration monitoring system allowed us to start up the installation even in Germany where the factory works nearby inhabited buildings.
Currently we have been designing new utilization installations for industrial wastes from energetic coal burning and reclamation of communal wastes.
We deliver also:

weighting hoppers for colours (powder, liquid, granulate),
weighting hoppers for additives,
ceramic and padding welded mixer's linings,
control system for cement dosing,
weatherproof housings for aggregates' storage bins.