Specialized installations - Installation for utilization of industry and municipal waste (solidifying with cement)
We design, deliver and start-up installations for utilization of industry and municipal waste.
We offer installations designed for the following companies:
recycling of combustion by-products
liquidating of industry and municipal waste disposal sites.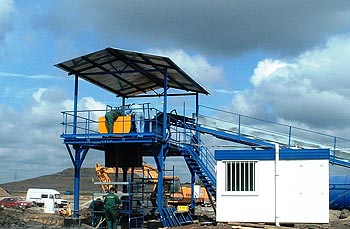 First of offered installations allows for recycling of combustion by-products: ashes and slag.
The mixes produced on this basis, made from cement, ash and slag or cement, aggregate, ash and slag are used for:
stabilizing of a ground
production of a material for roads foundations
production of a concrete for car parks, ground sites, industry halls, public utility buildings as well as for land reclamation of industry and degraded areas
Installations used for mixing of production and municipal waste (sewer sludge, by-products from fertilizers production, etc.) allows for obtaining a material which can be used for land reclamation of the following areas:
damaged by fertilizers
after industry
liquidated waste disposal sites
These wastes after transformation into a compost may be used for:
companies building roads, ringways
covering the ground and preparing a place for a grass sowing
fertilizing of agricultural areas
fertilizing of public gardens and parks
cultivation of garden and pot plants
Our installations are designed for granulating of the raw material and mixing it with stabilizing additives (cement, ash, aggregates) as well as neutralizing (lime, or chemical liquids) or eventually ennobling additives.